Dua nama psikolog, Jung dan Freud, sering kita dengar atau sudah biasa didengar. Dulu sering ada kutipan dari dua orang ini, tetapi sering sipengutip hanya mengutip tapi tak peduli apa sesungguhnya yang dimaksud oleh Jung atau Freud. Zaman berubah, perkembangan internet luar biasa dalam memungkinkan siapa saja untuk mengetahui apa saja. Begitulah psikologi sebagai ilmu telah banyak dipelajari oleh banyak orang, termasuk banyak yang hanya curiousity, ingin tahu saja.
Orang lebih banyak mempelajari Jung karena barangkali lebih sesuai dengan perkembangan pikiran dunia sekarang seperti pembagian tipe manusianya introvert dan extrovert. Bahkan semakin populer dalam pertikaian atau konflik etnis/kultur Abad 20-21. Yang lebih menarik lagi ialah sifat-sifat manusia itu belakangan dikaitkan dengan perkembangan genetis/DNA manusia atau grup manusia. Banyak yang menentang mati-matian terutama dari pihak Psikoanalys Freud. Tetapi apa gunanya ditentang kalau semakin hari semakin banyak juga hasil peneletian ahli-ahli yang menunjukkan hasil yang memang demikian.
Begitu menariknya teori Jung yang sesuai dengan kenyataan dalam kehidupan, sampai kitapun jadi sering memperdebatkannnya antara orang-orang awam di media sosial juga media nasional.
Kita sudah pernah debat dan menyimpulkan orang Jawa dan orang Karo sebagai introvert dan orang Batak atau Bugis sebagai extrovert. Jokowi dan Sultan Yogya adalah contoh manusia introvert yang pernah disebutkan di media. Bahkan sampai ke pembagian praktis nation atau bangsa-bangsa dunia yang dimasukkan ke kategori introvert atau extrovert telah banyak ditulis.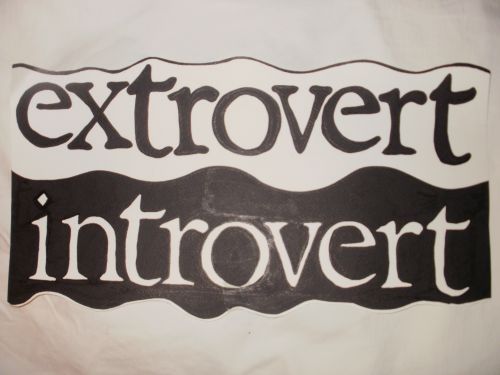 Teori Psikologi Jung mempunyai arti praktis dalam kehidupan dan banyak membantu dalam interaksi sosial antara manusia dan grup manusia. Dalam sebuah Journal Psikologi 'Psychology Today' ditulis begini: "Extrovert don't understand introversion unless someone explains it …. Extroverts can't read your mind and they're not big on catching hints. Say what you want."
Orang Karo (introvert) sering bilang kalau orang Batak (extrovert) 'tak punya perasaan'. Betulkah pendapat ini?
Yang betul ialah seperti di atas, mereka tak bisa membaca apa yang kau maksudkan, karena itu katakan saja kau mau apa. Atau orang Batak sering bilang 'to the point'. Terus terang saja, itulah yang mereka mengerti dan menyukainya juga. Mereka tak pernah tersinggung 'perasaannya' kalau dikatakan terus terang, karena itulah yang bisa mereka mengerti.